Compound sodium chloride injection, also known as ringer lactate infusion, is a sterile, nonpyrogenic, isotonic solution that contains sodium chloride 0.85%, potassium chloride 0.03%, calcium chloride 0.033%. Many drugs are suggested not to use in combination with Compound Sodium Chloride Injection/Ringer Lactate Infusion as it reacts with electrolyte, especially calcium ion.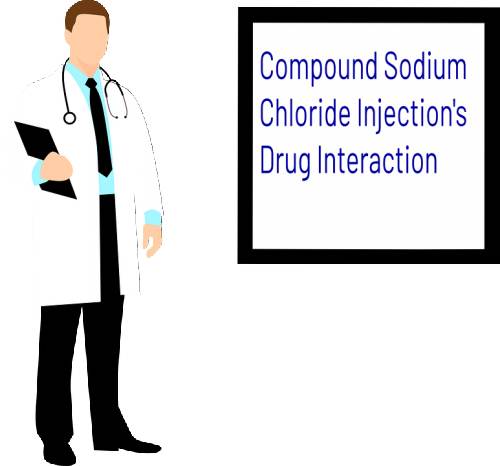 List of drugs are not compatible with compound sodium chloride injection
Adenosine. Adenosine monophosphate for injection can not use together with infusion with calcium as phosphate reacts with calcium ion.
Adenosylmethionine succinate for injection should not be mixed with alkaline solutions or calcium-containing solutions.
Cefradine. Cefradine for injection contains sodium carbonate, So do not use it in combination with drugs containing calcium.
Cefmendol Sodium. Cefmendol sodium preparations for injection contain sodium carbonate, So do not use it in combination with drugs containing calcium.
Ceftriaxone. Ceftriaxone sodium for injection cannot be used in solutions containing calcium.
Cis-atracurium benzalkonium.The degradation of cisatracurium for injection in lactated Ringer's injection are faster, so it is not recommended to use lactated Ringer's injection as a diluent for cisatracurium for injection.
Digoxin.Digoxin injection is contraindicated in combination with calcium injection.
Fosfomycin. Fosfomycin will form insoluble precipitates with some metal salts. Do not mix with calcium, magnesium and other metal salts and antacids.
Ibandronate. Ibandronate sodium injection should not be mixed with calcium-containing solutions.
Methionine Vitamin B1. Methionine Vitamin B1 for injection should not be mixed with alkaline liquids or liquids containing calcium ions.
Minocycline. The diluent should not contain calcium ions during intravenous drip of minocycline hydrochloride suspension in order to avoid precipitation.
Nafuramide. Nefuramide oxalate injection can not be mixed with solutions containing calcium ions.
Ozagray. Ozagrel reacts with calcium-containing infusion and forms white precipitation.
Trace element injection. The zinc iron in Trace Elements Injection reacts with calcium ,so do not use them together.
Pamidronate Disodium. Pamidronate disodium forms complexes with divalent cations. So do not use it together with calcium-containing intravenous injection solutions.
Pemetrexed. Pemetrexed is physically incompatible with calcium-containing diluents.
Propofol. Do not use electrolyte infusion solution with propofol injection.
Sodium Fusidate. Sodium fusidate for injection will precipitatewhen the pH of the solution is lower than 7.4.
Sodium Citrate. Calcium ions will precipitate when mixed with blood containing sodium citrate.
Sodium fructose diphosphate. Sodium fructose diphosphate for injection should be separactly, especially do not dissolve it in alkaline solution and calcium salt solution.
Tegafur. Tegafur is alkaline and contains carbonate. So do not use it in combination with drugs containing calcium.
There are also contraindications in physicochemical, pharmacokinetics and pharmacodynamics after mixing Sodium Lactate Ringer's solution with below produdcts.
Mannitol, Amsacrine, Aminocaproic acid, Phenytoin sodium, Dexamethasone, Fleroxacin, Droperidol, Itraconazole, Calcium Sodium Edetate, Papaverine, Thiopental sodium, Pefloxacin, Propafenone, and Melphalan.